On June 25, 2020, I had gastric sleeve surgery and it changed my life forever.
Actually, let's back up to two weeks prior when my life truly changed. I've never wanted to slap, uppercut, and go ballistic on the world more than I ever have in my lifetime. You may think I'm a lunatic, but my reasoning was clear: for two weeks straight, I was put on a completely liquid diet with absolutely no cheating. I cut out sweets, meats, bread, chips, fried foods, and pretty much anything delicious. However, once I stepped on the scale on day 14 and saw the number 278 instead of the 293 pounds I began with, it all was worth it. And so my journey began.
I never foresaw myself getting this surgery, but once the opportunity presented itself I had to oblige. I've had an imperfect relationship with food since I was born. I was greedy as a baby, but as a kid, I was a picky eater and constantly underate (my mom claims I only ate rice, corn, and hotdogs—weird combo, I know). Throughout my teenage years, junk food became my comfort. It was my coping mechanism after I began to isolate myself due to being sexually assaulted.
As an adult, my relationship with food escalated due to the mental illness medications I take that makes me gain weight. I'm not sure where or how my eating behaviors originated, but over the years it has elevated to unhealthy measures. Needless to say, having the majority of my stomach taken out was the best thing for me. I saw diabetes (my greatest fear besides death) in my near future, so I knew I had to take action as soon as possible. The procedure is pretty simple. My liver was flipped back to allow the surgeon room to access my stomach (which is why I had to do the liquid diet to shrink my liver). Once located, the surgeon then cut 75% of my stomach and stitched back what was left which was about the size of a small banana. The new smaller stomach remained connected to the small intestine, so my digestion is normal.
Soon after the surgery was done the weight began to drop, and the guys began to flock! I started an Instagram page solely to document my progress. I was inspired by the many women who documented their progress this way, and their pages were the reason I decided that getting gastric sleeve surgery was right for me. Initially, I didn't see a change in my body, but in my face, I couldn't have been more ecstatic when I started to see my lingering double chin start to vanish. After a few more weeks, my body was saying 'Hey girl! I'm downsizing!' and not only could I see it but I felt it. My size 2XL shorts were starting to fall off, and my 3XL tops were fitting a lot looser. This made everything real for me and further signified that I'd made the right decision.
My confidence skyrocketed, so I took to Instagram to show off my new look. The first picture I posted was of myself facing directly in front of the hotel mirror in an all-black one-piece swimsuit accompanied by a thin black belt with a silver middle accent that I wore to the pool for a weekend staycation. I felt amazing for two reasons: 1) I bought the swimsuit on clearance for only $9 (score!), and 2) It accentuated my curves in the best way and made me feel sexy! My tummy was noticeably flatter, and to be honest I just felt bomb AF. Coming out of the pool to endless comments and messages on my page from guys I went to middle and high school with tickled me for a while. Who knew a one-piece had that much power?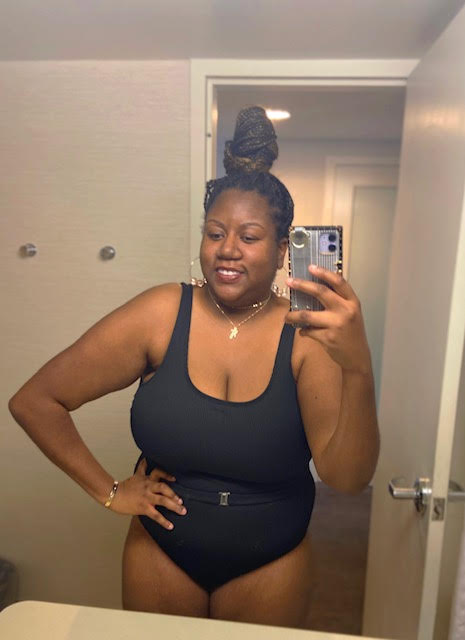 The next morning, I woke up to two new followers and message requests from noticeably older white guys inquiring about how they could be my sugar daddies. I immediately laughed but decided to play along to see if they were serious. One turned out to be a hoax and deleted his page after I threatened to report him, and the other stopped responding after I wouldn't give him my routing number so he could send me money for a mani/pedi. Scammers come in all forms on the internet ladies, pay attention.
Anywho, the attention didn't stop there. Yet again, with the intent to post my progress and celebrate my weight loss and self-love, on day two of my staycation I posted a picture of myself in another one-piece swimsuit. This one was colored in coral, black, peach, and baby blue stripes and it tied in the front. This time I decided to get bolder with my pose, so I switched up the angle and turned sideways to show my new lack of stomach. And like clockwork, in came the comments: a parade of double side-eyes, black hearts, fire signs, heart eyes, and the inevitable 'wassup stranger' messages. The attention was sweet, but the 40 pounds I had now lost was even sweeter.
 If this is the reaction now, wait until I reach my goal weight! Who knows, I may even get a husband out of the deal! I thought to myself. Dating has always been a conundrum to me, so the increase in male attention made things interesting and introspective. At 31, I've had way more bad dates than good, and I've only been in one real relationship. I don't date often, and I've never made it to a second date. That's not to say I haven't come close. I've had a grueling 'situationship' that left me questioning the entire male species. So I am cautious with whom I share my energy with.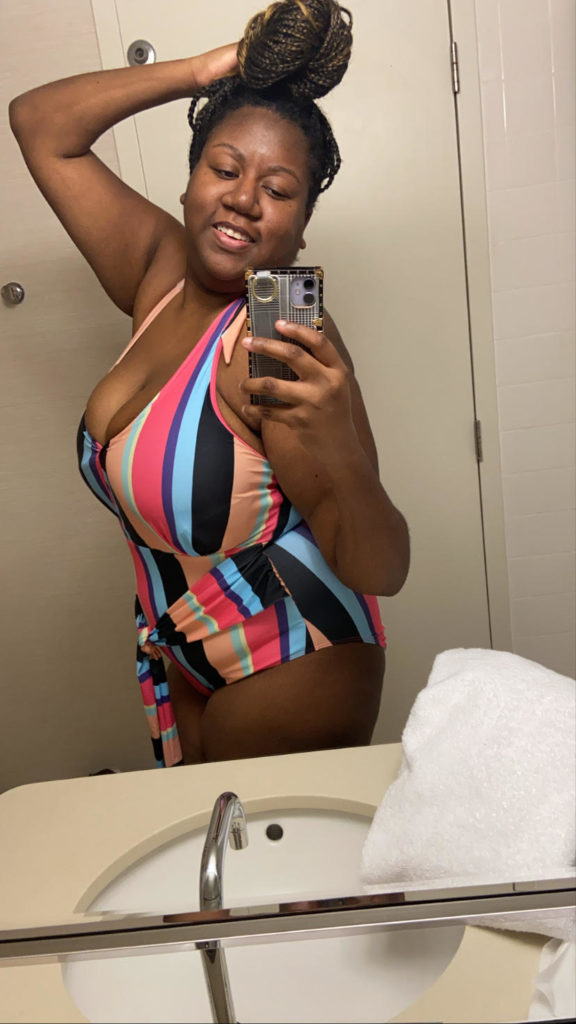 I used to think I sucked at dating, but a good friend recently corrected me and told me the timing hasn't been right and the energy hasn't matched what I'm putting into it. I'm no charity case, I enjoy my solitude to the fullest, I pamper and take myself out on dates quite often. They say if you can't be alone with yourself something's awfully wrong. Well, I know what's right: drinking water and focusing on my health and career. Everything else will come.
I think my biggest takeaway from this journey is the importance of self-love and respect. I'm not changing for anyone but myself. I made the decision to make a lifestyle change for myself. I'm losing weight for myself. When the time is right, I'll get into a relationship for myself. I've never done things for recognition or notoriety, I know who I am from within, and that's where I grow. While guys are showing interest in me now, commemorating my weight loss journey is an inner-soul experience just for me. My weight loss journey is bringing all the boys to the yard, and while there's nothing wrong with that, I desire a man.