Welcome to Hair Diaries! A monthly feature where Black women share their hair routines, holy grail products, their feelings, and everything in between. Want to submit a hair diary? Email us at hello@carefreemag.com.
Day 1: Wash Day
Time to wash my hair! I decided to dye my hair purple with MOFAJANG Hair Wax since I'm in the house bored and have nothing better to do than experiment with my hair. Purple is my favorite color, but I've always been too scared to permanently dye it that color. So when I discovered this temporary purple hair wax on Youtube, I was sold. From the videos I watched, it looks like it's going to apply super vibrant but not too crazy. The instructions say to apply on freshly washed hair so I had planned to wash my hair today to do just that.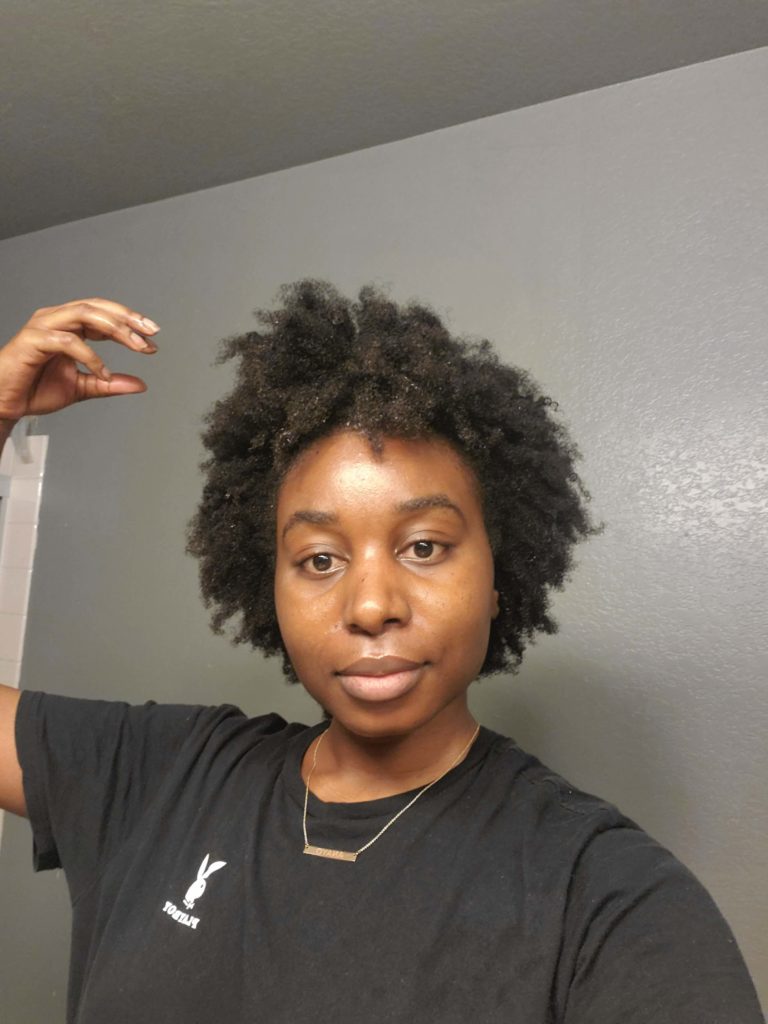 Before I wash my hair, I typically do a pre-poo to detangle. I have a mix of textures in my hair but I'm mainly 4B/4C in texture and high porosity. To detangle, I use the African Pride Moisture Miracle Aloe & Coconut Water Pre-Shampoo which is my holy grail detangler. My hair could be on the brink of loc'ing and this stuff still slides through my kinks like butter. I part my hair in four sections and work the product through each section, making sure I gently detangle. Got to be gentle AF with type 4 hair!
To cleanse, I use the Shea Moisture High Porosity Shampoo. After, I use the Aphogee 2-minute Keratin Reconstructor to add more protein to my hair. High porosity hair tends to love protein and because I don't know if this color is going to mess with my strands, I add it in just in case. But I typically do this once a month. I rinse that out and put in the Catherine Marion Conditioner for about 10 minutes while I actually shower.
So fresh, and so clean! I hop out the shower and grab a new deep conditioner I've been trying–the Texture ID Deep Treatment Masque. I follow Halfrican Beaute on Youtube and she swears by it so I figured I'd try it since her hair is poppin'. I put it in my hair, put a shower cap on top, and then wrap my hair in a scarf to lock in the heat. Twenty minutes later, I rinse it out.
Finally, I do the LCO method to moisturize. I spray water on my hair to get it damp, then I use the Mielle Organics Leave-In Conditioner cream, and seal it all in with Love Potion #9. A bomb DIY oil mixture courtesy of Urban Bush Babes.
Time for the color! Wait…Was I supposed to apply the color before LOC? OH WELL! Too late!
Day 2
I put some of the purple MOFAJANG hair wax onto my eyebrows for some added "WFH so IDGAF" energy. It's Sunday which means I need to put in whatever style I'm going to rock for the rest of the week tonight. I figure this color would look bomb twisted out, so I proceed to put a few flat twists in my hair to prepare. It's blazing hot outside and my brother and I decide to go for a walk. The whole stroll, I was praying my hair color didn't melt out.
Day 3
Time for my flat twist out. I feel like twist outs never come out as expected for me, but I'm optimistic since the color truly acts as a wax so I'm hoping for a super defined style. I gently unravel each twist starting from the ends and work my way up. The purple color is slightly rubbing off on my fingers, but it's not too much. Once I finish, I look in the mirror and am once again disappointed by my lackluster twist out. It didn't come out as defined as I expected. However, the color makes up for its basic-ness. A few of my coworkers comment on my new color. No one really says they like it, but they all comment on how they wish they could be cool enough to dye their hair too. Okay…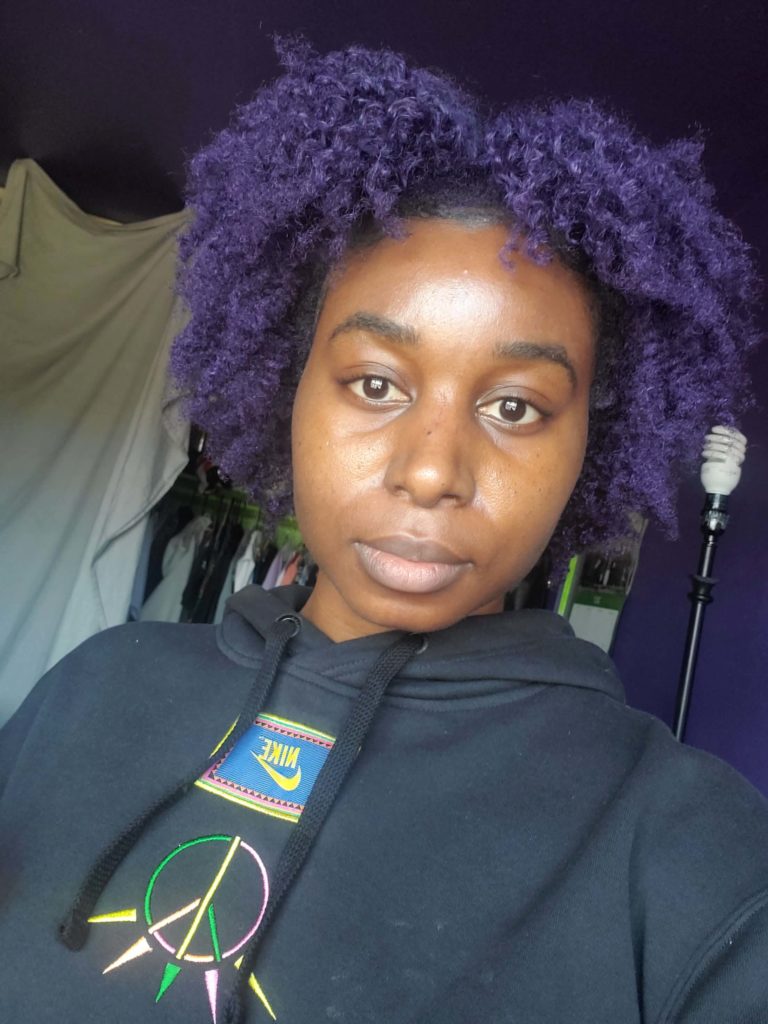 Day 4
I have a ton of virtual meetings today so I decide to not only put my hair into an afro puff, but I also slick down my edges AND put on mascara. Look at me! My new purple hair must be seen in its full glory and the afro puff is on fleek! I put on a black top to set it off so all the focus is on my hair. I look chic if I do say so myself.
After work, I remember that I have a pack of purple Marley hair in my hair drawer (I know you have one too) and decide that my next style is going to be a sleek purple braid a la Beyonce's majestic floor-length braid during the On The Run tour.
I part my hair into a side part, grab my Ecostyler gel, and start slowly slicking back my 4C hair into a ponytail. Once I have all the hair back, I braid the purple hair into my own hair creating a blended ombre braid. I add ___ edge control to my baby hairs. Since I need it to be sleek for work, I double scarf it: one to lay down my hair and one to preserve the style overnight.
Day 5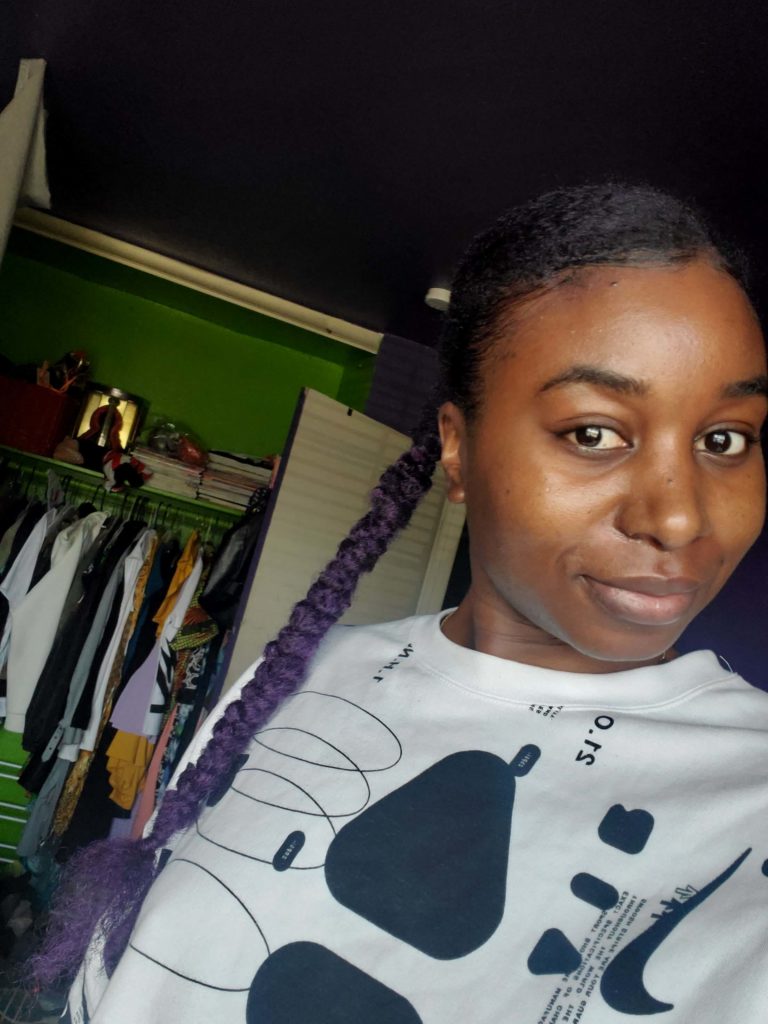 Ok, so I might've used to much gel. My braid is starting to itch a bit, but I wonder if that's also due to the hair wax? Regardless, this braid is so cute! I have another packed day of meetings and all my (yt) coworkers are gushing over how my hair matches my purple bedroom walls 🙄 Gotta love coworker jokes.
Day 6
I'm patting my head like it stole something. My scalp is so itchy. I applied more of the ECO Styler gel last night before bed to get my hair to lay down more today. Mission FAILED. By midday, the gel's hold has become weak and my style is no longer sleek. Also, I'm not sure if I'll make it to Saturday's wash day because my hair is screaming at me with all this product in my head, but I love this braid and can't wait to do it again (maybe higher next time?). I have an 8:30 am meeting today and I've been getting up at 10 am regularly so no time to slick down the baby hair today. Y'all gonna get this kinky edge energy 🙃
Day 7 – Wash Day! Again!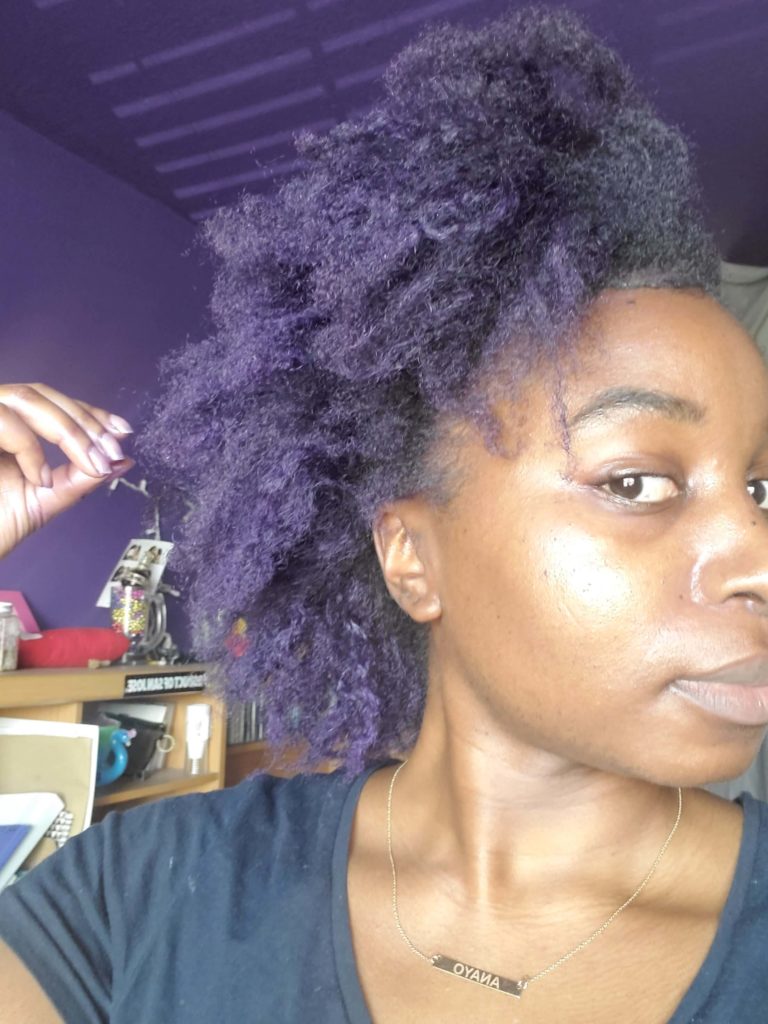 The hair color has slipped out from a full-fledged purple to a subtly ombre purple look. In short, it was on struggle. I couldn't make it one more day as my scalp was hanging on for dear life with all the products I used, but I loved rocking this temporary look. It was easy to apply, I have a ton of the product left, and it washes out easily. I follow my same wash day routine from day one using the same products, and this time, while my hair is air drying I decide to do a quick trim of my ends. While my hair is drying, I put it up in an afro puff and we're back to normal. Purple hair adventure: success.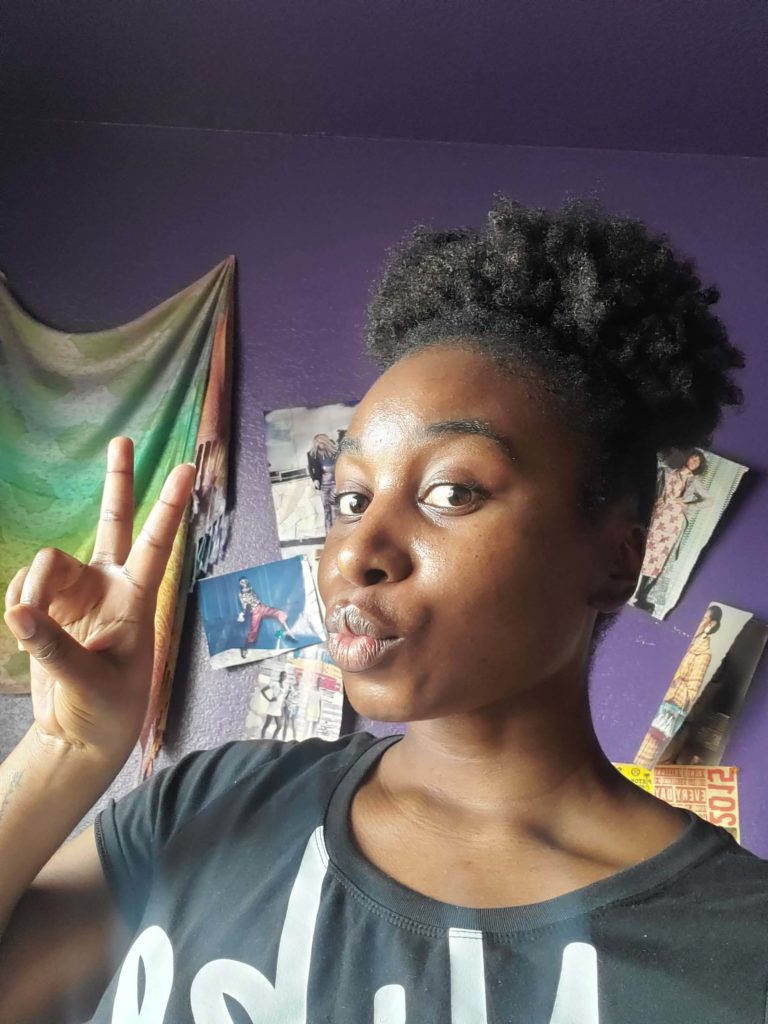 Join the Carefree Crew, an online community telling Black women's stories on life, love, adventure, and everything in between. Each week you'll get a new storyletter delivered to your inbox, musings from our editor, a curated list of the most poppin' things on the web, and exclusive access to news on future events, workshops, and products.